Slovenia is a small country in the heart of Europe. It is the only country that combines the Alps, the Mediterranean, the Pannonian Plain and the Karst. The diverse landscape never seizes to surprise and enrapture.
On the one side you can see the sea, on the other you can admire the high mountains. Heading up into the forests, you can see the greenplains stretch out below you. From the upland meadows, your view stretches into the river gorges.
This proximity of opposites and contrasts is a hallmark of the country. And again and again you will be surprised at how many treasures this small piece of the Earth hides and at the friendliness of the people who will greet you. Among all this, there are 13 hidden golf treasures.
Otecec | Slovenia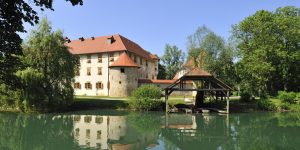 Trending in Slovenia
Lesce | Slovenia